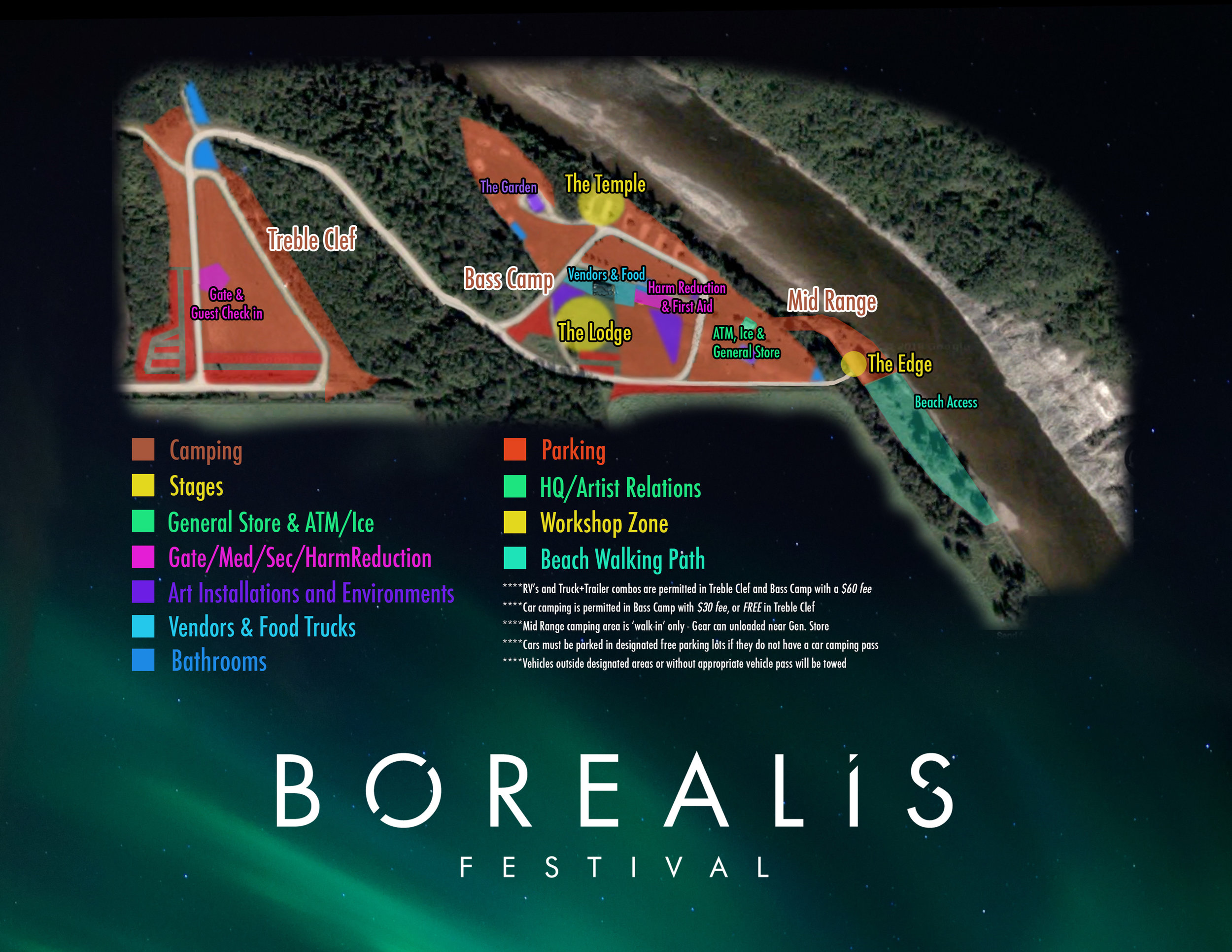 Planning Camp
General admission ticket holders have access to 3 campgrounds - "Bass Camp", "Mid Range", and "Treble Clef"
Arrive on site early for the best camping.
The Treble Clef allows more spacious room if you choose to camp with your vehicle and also functions as quiet camping.
Mid Range is walk-in only, these are some of the most desirable spots near the river and will fill up early. Cars can be parked for free in either of our 2 parking lots in either Treble Clef or Bass Camp.
In Bass Camp you can be near the action close to stages, vendors, amenities and only a short walk to the river.
In all Camp areas Car camping or camping with RV's or Trailers (incl. Truck) are subject to a fee
Be advised we do not offer RV hook-ups
Consider The Following
-Do I want to be closer to the stages?
-Do I want a quieter campsite at night?
-Do I want my campsite to be secluded or in a more populated area?
Before You Arrive
-Get familiar with our site map.
-Communicate with your friends, so you can find each other - there is very limited cell service on site so plan to put your phone away and connect with the land
-Talk to people who have been to the site before for tips and advice on camping.
Essential
-A quality tent or RV that can withstand the elements including heat, wind and rain.
-Food and Drink (Vendor information announced July 2019)

-A high quality flashlight for finding your away around at night.
-Garbage bags for keeping your site clean and tidy. Pack out what you pack in.
Also Bring
-Chairs.
-Rope and tarps for extra sun and rain protection.

-Shade Tent for your squad
Nice to Have
-Decorations
-Water Toys
-Wacky Fun Props and conversation starters
Food and Artisan Vendor Applications are here. Vendor Info will be updated in Summer 2020.
Water will be made avail free at locations around the site.
Borealis has it's own General Store. Here you are able to purchase all the essentials you may have forgotten. Offerings include: Ear Plugs, Cigarettes, Coffee, Non-Alcoholic beverages, Snacks, Advil and Tampons.
Additionally, this will be the place where you can buy ICE.